The Last Thing by Briana Gaitan
Release Date: August 15th
Designer: Cover it designs
Synopsis
Plagued by past mistakes in both love and life, Quinn Bardot is in a bad place. With nowhere else to turn, she escapes to LA clinging to the promise of a fresh start.
Chase Crowley is known for being selfish and unbelievably persistent. All he's ever wanted is to become a successful actor. But now that he is about to have it all, he finds that something is still missing. Money and fame isn't what he expected.
After a fervent encounter,
the two of them are thrown into a situation that neither is prepared for. Can Quinn extinguish her fears and let Chase in? Can Chase learn to put someone else's needs before his own?
The Last Thing is a novel all about love, Hollywood, and accepting what life throws at you even if it is the last thing you want.
(This is a New Adult Romance novel & contains language & adult situations. Not recommended for readers younger than 17)
***The Last Thing is a stand alone book with NO cliff hanger ending. It is book one in the Hollywood Timelines series.***
B
uy from Amazon (US)
Kristine's Thoughts:
I received an advanced readers copy of this book directly from the other in exchange for an honest review.

I want to start out by saying that I think there is a new voice in NA fiction. When I first signed up for this blog tour I will admit that I was a little reluctant because The Last Thing is Briana Gaitan's first NA book. I was worried that a jump from Sci-Fi to NA would be a big stretch and that it would show in the writing. There was no need for me to worry as she made the transition flawlessly and penned a story that I am sure that all fans of NA will enjoy.

This is a story of two very opposite people that are similar in that they are both flawed. Quinn is a small town girl who flees to the big city to live with her cousin in the world of TV and movie stars. She is running from her past that is filled with guilt, loss, sadness, gossip, nightmares and tragedy. Chase is a hunky movie star who is use to having any girl he wants on any given night but he never dates. The pages of this book are what happens when their two worlds collide and take them in an unexpected direction.

There are a few lust filled pages for fans that like their stories a little on the steamy side but it is not over done. I applaud Gaitin for this as I find that sometimes in this genre there is so much sex that it over powers the story. There was just the right amount of heat that it did not take away from the plot and the bigger picture.

The story flowed nicely and it was a quick and easy read. I enjoyed getting to know all of the characters as well as a look at the Hollywood celebrity scene. It appears that the next book will be centred around Quinn's cousin Ginger. She is a fairly big part of this story and I have to say that I wasn't exactly pleased with the direction she was going. Having said that, I can't wait for the next book to find out what happens in her life.

Over all, this book was a very solid read that I am happy to have had the opportunity to read. Not only did I enjoy the book but it has provided me with a new author to watch. I think that Gaitan has a bright future in the NA genre and I look forward to reading the rest of the Hollywood Timeline series.


About the Author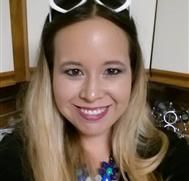 Briana Gaitan grew up in the South, but calls herself a geek at heart. She is a blogger,author,and fangirl who loves Star Wars, Star Trek, and Jewelry (bet you never thought you'd hear those three things in a sentence together) For fun, she loves watching any show on the SyFy channel, relaxing with her family, reading, and listening to indie music (sometimes all at the same time). Briana loves to write stories where there are no limits to the imagination. She is also the co-author of the fantasy Ethereal Underground series.
a Rafflecopter giveaway