Yoga Club is a subscription service for high end yoga/fitness and athleisure apparel at 50 to 60% off retail price.
How Yoga Club works is you go onto their website and sign up. You take a personalised style quiz where you are asked numerous different questions to get a sense of your own personal style. For example, it asks what kind of activities you wear athleisure for with options from Yoga to travel and brunch. Do you like leggings? Capri's? Shorts? Sports bras? Tank tops? Long sleeve? and do you like neutrals, colours and patterns? These are just a few. You put in your height and sizes and a personal stylist curates an outfit just for you. This means that your outfit will not be the same as another person. Some subscription services send the same outfits out each month but that is not the case with Yoga Club. Each box is curated specifically tailored to you.
The Guru box (the one that I get) comes with 3 different pieces. All high end, good quality pieces from name brand companies. We are talking Teeki, Jala, Onzie, Manduka, Columbia, Free People, Glyder, MPG and Niyama Sol just to name a few. A pair of leggings (or crops or shorts if you put it on your quiz) a sports bra and a layering piece. The price of the Guru box is $79 USD, Check out my link below to get $10 off for life. The nice thing about Yoga Club is that you are not locked in to any amount of time. You can cancel or pause your subscription at any time. If your exercise needs or style changes you just need to log into your account and re-take the style quiz.
On top of all that, Yoga Club gives back. For every Yoga Club box sold they give a class to a child in an under served community. They also have a Love Guarantee. If you don't love it or something doesn't fit properly they have an easy exchange policy for something you do.
If Yoga Club is something that you have been considering you can get $10.00 off your boxes for life by clicking my referral link
Here
.
A first look inside my February box!

A look at the outfit as a whole!
Sports Bra
Onzie
(Own-Zee)- Chic Bra Blush retail value $48 USD
I received this sports bra in a previous box but in black so I know I like it. The pink is super cute and gives me a lot of different wardrobe options. It matches really well with some of my other outfits so I will be able to mix and match. Also the super feminine strappy back looks amazing with the layering piece that I received in this months box.
Layering Piece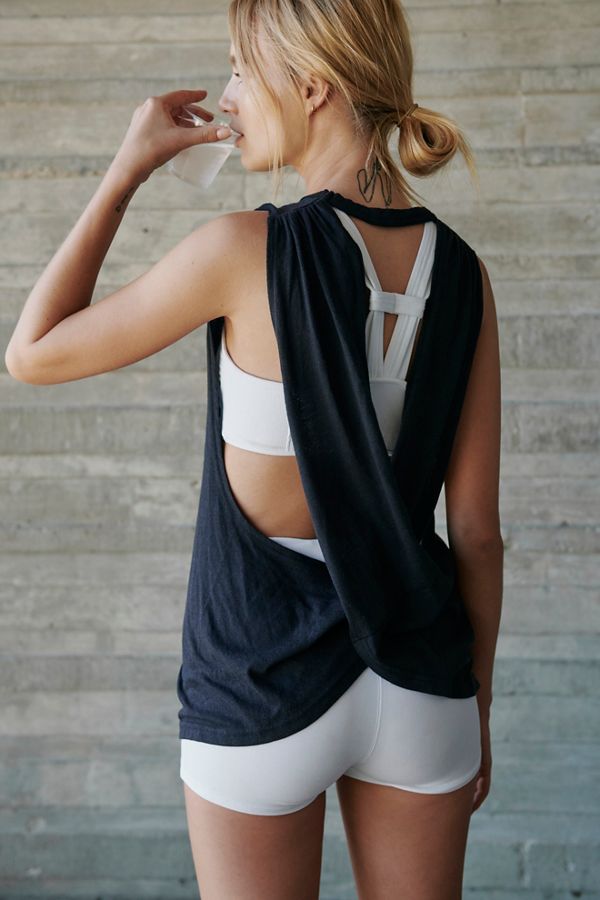 Free People- No Sweat Tank
in Black retail value $38 USD
I couldn't properly get a picture of this tank so I took one from the Free People website. Maybe one day I will perfect the selfy and manage to get pictures of myself wearing the outfits!
Effortless American made tank featuring a soft tri-blend jersey fabrication. Open cross-back silhouette and rounded hem with relaxed fit make for easy wear before, during or after any workout. It is also ideal for showing off details on active bras and crops!
I love this tank! I can see myself wearing it a lot in the summer at the lake where I have no air conditioning but still want to get active. Won't the blush sports bra look adorable under it? It will also work great for throwing on over top of a bathing suit if a neighbour pops by for a visit.
Bottoms
Glyder
- Moxie Joggers in Grey retail value $64 USD
This is the first pair of joggers I have received in one of my boxes and the first piece from Glyder. These super comfy pants are perfect for me. I love to be comfortable and when I am not wearing my leggings you can usually find me in jogging pants. These ones are a little less frumpy than most that I own and that is a good thing. I have been wanting to get some items from Glyder for some time now so I am happy to have a piece to try out. I am really hoping to get a pair of their leggings in a future box.
Again I am very pleased with the outfit that was curated for me. At a retail value of $150 USD it is a definite savings and it is so much fun to open up and see what I get each month. This box is $79 but if you are interested you can get $10 off for life by using my referral link
here
.
Thoughts and opinions are my own and are not endorsed or sponsored by Yoga Club in any way.